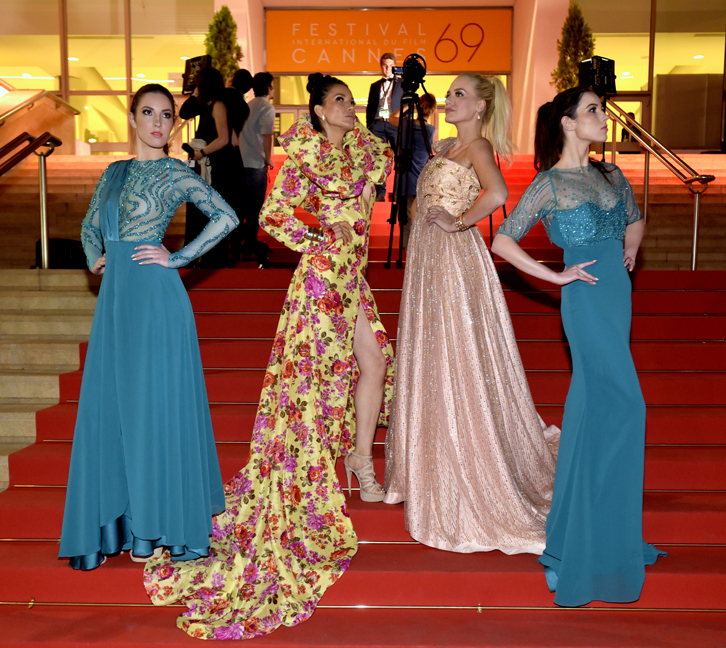 The Global Short Film Awards Gala was held on May 21, 2016 at the iconic Intercontinental Carlton Cannes. Emceed by international model and humanitarian activist Farah Zuleikha, the festive evening included fashion shows, awards presentations, world-class entertainment, red carpet and a delectable dinner and champagne reception.
Highlights of the event:
FASHION SHOWS produced in partnership with Couture Fashion Week New York. Luxurious and impeccable creations by designers Anniesa Hasibuan, Nonye Lumm, Ezio Bottoni, La Rena by Renata Kliska, Nancy Vuu, Coreta Kapojos and Andres Aquino whose collection was accessorized with a selection of one-of-a-kind top hats by artist Kevin Berlin.
Stunning MODELS from around the world including a group of Havana Sun competition winners.
MAKEUP by industry leader Aimee Carr and her signature Voodoo Makeup brand.
PERFORMANCES by top-notch entertainers Mia Wallace, Stella Matteoni, Kaja Pecnik, Tabita Roselin, Veronica Iovan, Prince Igor and Tango Boheme (singer Cecilia Herrera with dancers Walter Venturini and Sabrina Garcia). European singing sensation Jay Santos premiered his brand new single "Tu y Yo" to the audience's delight.
AWARDS were presented to the 2016 Global Short Film Awards winners as well as to several special honorees. The film award winners were selected from over 1,400 entries from some 80 countries this year. Over 50 finalist films were screened in April in New York City. The winning films honored in Cannes were:
Best Feature: The Gift
Best Animation: Last Island
Best Documentary: Ovunque Proteggi
Best Director: Marco Toscani, Ti Ho Incontrata Domani
Best Actor: Xandar Berkeley, The Gift
Best Actress: Virginia Nolting, The Silent Killer
Young Talent Best Actor: Brady Permenter, The Gift
Young Talent Best Actress: Estella Kirk, Unto Me
Best Fashion Film: Unto Me
Best Music & Dance Film: Descent
Best 3-D Film: Le Constructeur de Malheur
Best Travel Film: Welcome to Almaty
Best Cinematography: 05:55
Best Special Effects: Jano
Best Music & Sound: Mario Was Watching the Sea With Love
Best Set Design: The Gift
Festival Director's Choice: Ti Ho Incontrata Domani
People's Choice: The Reaper
The film judges were Andres Aquino, Giulia Deamina, Josef Demian, Leo Lo, Lilia Lavova, Mahealani Diego, Mark Berry, Michael Stougiannos, Vasileios Douskos, Viola Manuela Ceccarini and  Yiorgos Mikael Panteleakis.
In addition to the film awards, Leo Lo was presented with a Lifetime Achievement Award for his accomplishments in film special effects; Mauricio Amuy was presented with a Humanitarian Award for his work with the Fundacion Brazos de Amor charity helping needy children in Costa Rica; and Anniesa Hasibuan was presented with a Best Fashion Designer Award for her incomparable fashion achievements.
Special acknowledgement was made to European football megastar Eric Abidal and his namesake foundation. Sponsors included Deamina Magazine, Karmaloog, Another Concept Magazine, Havana Sun, FilmFestivals.com, EnviMusic, SP Management, World Media Alliance and Qoobex.
The Global Short Film Awards was founded and is directed by Andres Aquino. Sponsorship opportunities are available for May 2017. For more information visit www.GlobalShortFilmAwards.com