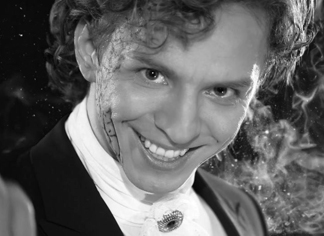 Acclaimed operatic singer and actor Nikolay Gladskikh recently performed at the Cannes Fashion and Global Short Film Awards Gala in Cannes, France on May 20, 2017. The event was held in the Grand Salon at the world-famous Intercontinental Carlton Cannes.
Nikolay Gladskikh is the lead performer in Crude Furie, recipient of the 2017 Global Short Film "Best Music Film" award. He is also a finalist in the "Best Actor" category. Crude Furie is directed by Andrey Nyanchuk and produced by Yuri Khorol.
A native of Novoshahtinsk, in the Rostov region of the Russian Federation, Mr. Gladskikh studied piano at an early age, and went on to study voice at the Moscow State Classical Academy, the Russian Academy of Theatre Arts (GITIS) and the Royal Conservatory in The Hague, The Netherlands. He won the singing competition "Bella Voce" (Russia, 2004) and was awarded Third Prize at the International Vocal Competition "Tommaso Traetta" (Italy, 2006). During his studies in Holland he sang the roles of Sorceress and Spirit in the opera Dido and Aeneas by Purcell, and the role of Orestes in the operetta La belle Hélène by Jacques Offenbach at the summer opera festivals in Mosset, France. Mr. Gladskikh has performed in numerous concerts in Russia, Germany and The Netherlands.
He worked with Belgian director Sigrid T'Hooft on the production of the opera Prince Igor by Aleksandr Borodin at the Perm Opera and Ballet Theatre in Russia and on the production of Händel's opera Imeneo at the Händel-Festspiele Festival in Göttingen, Germany.
Mr. Gladskikh's repertoire consists of works by Bach, Vivaldi, Händel, Gluck, Pergolesi, Hasse, Bononcini, Scarlatti, Caldara, Durante, Caccini, Stradella, Falconieri, Purcell, Mozart, Strauss, Poulenc, Rimsky-Korsakov, Offenbach, Bernstein and other composers.