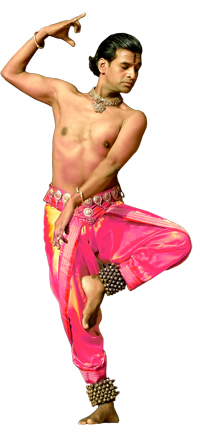 Multi-talented international performer Dr. Raghunath Manet appeared at the recent Cannes Fashion and Global Short Film Awards Gala. The event was held at the Intercontinental Carlton in Cannes, France on May 20, 2017 and included luxury fashion shows and entertainment by world-class performers, as well as the presentation of the 2017 winning film awards.
A native of Pondicherry, India, Dr. Raghunath Manet is an artist, dancer-choreographer, musician-composer, singer, writer, actor and filmmaker. In dance he specializes in the classical Indian Bharatanatyam, and in music he performs on the Veena stringed instrument. He has worked with many prominent international artists including Archie Shepp, Michel Portal, Didier Lockwood, Carolyn Carlson, Richard Galliano, Bik Régis, Dr. Balamurali Krisha and Drums Sivamani. Dr. Manet holds a doctorate degree in Cultural Anthropology, and has released more than 25 CDs and 5 DVDs in both dance and music. In 1989 he founded the dance and music Academy "TALA SRUTI" in Pondicherry for poor children where he teaches and conducts workshops in dance and music.
Raghunath Manet has performed all over the world including at the Opera de Paris in France, as well as at prestigious festivals and venues in France, Italy, UK, Germany, Austria, Switzerland, Hong Kong, Australia, Sri Lanka, Africa, Singapore, India, Mauritius, USA, Caledonia Islands, New Zeland, the Caribbean and the Reunion Islands. He has appeared at special events for Cartier, Louis Vuitton, Hermès, Chanel, and other iconic brands. In 2017 Dr. Manet received the Pravasi Bharatiya Samman Award (PBSA) 2017 presented by the President of India during the Pravasi Bharatiya Divas celebrations in Bengaluru, recognizing Dr. Manet's contributions promoting Indian arts and culture in France. Other accolades include the Officier des Arts et des Lettres (2016) and the Chevalier des Arts et des Lettres  from the French Ministry of Culture, the Gopio Community Service Award in Jaipur, India (2011), and the Best Performer Award during the 2014 Chennai Music and Dance Festival.
Raghunath Manet has appeared in films including Diamant Noir by Arthur Harari, Le journal d'un séducteur by Daniel Dubroux with Jean-Pierre Léaud and Chiarra Mastroianni, and Perduto Amor by Franco Battiato. His work as a filmmaker includes Dance of Siva, Aathma, Devadai (a documentary), and Karma.